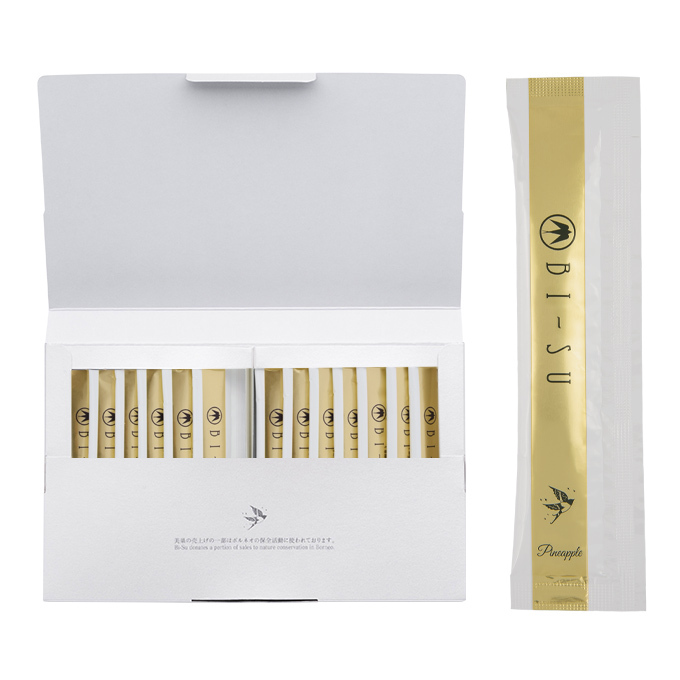 Bird's Nest Collagen Beauty Essence Jelly (Pineapple Flavor) 30pcs
Contents: 0.42oz/pc
Jelly with swiftlet's bird nest extract and collagen.
Product Features

The swiftlet's nest extract are complemented by a moisturizing white mushroom essence and 4 lemons' worth of vitamin C, all packaged in portable stick sachets. The delicious pineapple flavor of the product not only nourishes your skin, but also your body.

Ingredients · Nutrition ingredient display

Ingredients: Beetroot sugar, pineapple fruit juice, swiftlet nest extract, fish collagen peptide (gelatin), white jelly mushroom extract, fermented wild grass extract , acidulant, Vitamin C, thickening agent (polysaccharide thickener), flavorings

Shelf life: 2 year from the manufacturing date

Nutritional component of 1 stick (per 12 g)
Energy
10.9kcal
Carbohydrate
2.15g
Protein
0.35g
Sodium
0.041g
Lipid
0g

* Analytical test results by the Japan Food Research Laboratory

How to Consume

As a guide please consume 1 stick per day. You can consume it directly as a snack or desserts. Refrigerate to make it taste even better. Convenience size to bring it on the go. Please enjoy it in your favorite place at your favorite time.

Caution

※ Please check the raw materials and refrain usage if you have allergy.

Storage

Store in a cool area away from high temperature and direct sunlight or keep it refrigerated.
Open the packet carefully not to scatter the contents.
Please consume immediately once opened.
※ Because you are using all natural materials, the contents may discolour, but there is no problem on the quality.